The Buzz Spoke With Judy Zhu, Director of 21RV.com, Your Source For The Latest RV News in China, Who Represented Her Organisation At The National RV Trade Show.
Judy At the 2017 National RV Trade Show
Reaching new heights in popularity like never before is the use of vehicles for recreational activities and leisure travel. Being proven to take off in the U.S., Chinese tourists and locals are realizing that there's merit in getting outdoors for a camping trip while businesses find that it's a lucrative market. There's a growing interest of RVing among Chinese tourists and data is showing that the trend will likely continue to rise. Thanks to US-China Today, Joe Laing,the director of marketing for El Monte RV, a popular rental company for Chinese tourists positioned in California, explained the interest as reflective of a traditional travel cycle in China and partly due to the increasing popularity of cars in China. He says that the travel markets of countries, including China, progress through cycles where tourists start touring cities, then join package/group tours, and then finally drive their own RVs.
The Buzz spoke with Judy Zhu, the Managing Director of 21st Century RV Network, aka 21RV, a specialized media outlet for China's RV industry. Our goal: To get a fresh outlook on what the country is doing to accommodate visitors interested in exploring the outdoors, and an exclusive interview in regards to her visit to The National RV Trade Show in Louisville, Kentucky. 21RV aims to promote and spread awareness of the camping and RVing culture in China and provide the lasts information on what's happening in the industry, including RV manufacturers, dealers, component suppliers and campground operators. Attending a popular expo like the one hosted by the RV Industry Association (RVIA) is right where they needed to be to broadcast the China RV industry and gather more in-depth research that can be applied to the foreign market. Visiting for the 2nd year in a row, Judy noticed the show significantly increased its attention to the Asian market, especially China's RV market and the Korean RV market. Positive feedback to bring back home.
Judy recalls her experiences at the show in Kentucky and points out the drastic change in manufacturing ideas and design tailored to today's' market. "I saw a number of RV brands that quite impressed me. These brand RVs have undergone many aspects of changes, ranging from the exterior designs, to comfort use,and to user-friendly design," Judy explains. The show significantly increased its attention to the Asian market, especially China's RV market and the Korean RV market. In 2017, the sales of RVs in the U.S. have shown to grow rapidly. Among the overall destinations of RV sales of the United States, China's RV imports have increased year by year. Because of this, the United States RV manufacturers, for instance, the US Forest River, Inc., have increasingly turned their attention on the China's RV market.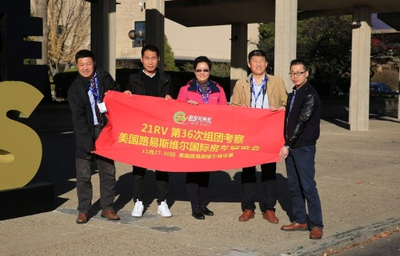 The 21RV team represents their brand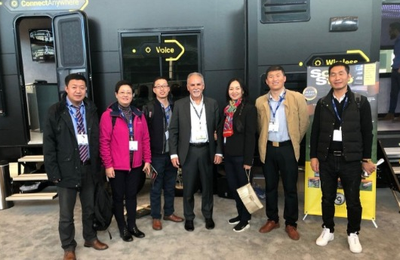 Building relations at the trade show
We wanted to know what insights 21RV Network gathered from their time in the U.S that they can use and apply to the caravanning industry in China. China's RV manufacturing industry has endured 16 years of progress, and has undergone great changes since its initiation to today's large market. According to Judy, from the year 2010 when the sales at Beijing International RV and Camping Exhibition reached 50 units, to the year 2017 when the cumulative sales reached more than 2,000 units, RV sales in China have been growing geometrically. "At the Beijing Exhibition which is held in the third week of March every year, we can see how rapid the Chinese RV industry developed, the changes occurring time to time, and how large the improvements in manufacturing capacity." At this exhibition, everyone will be able to witness the annual industry trend, the consumption demands, and the market activity. Because of this, Judy points out that the Beijing RV show is also called a barometer, or in other words a sort of weather vane, to measure the development and direction of China's RV industry.
Throughout her travels through tradeshows and events, Judy says there were U.S. media friends who mentioned that many American RV fans hope to make self-driving tour in China. In fact, every year, there are many RV fans coming from Germany and Italy to travel in China. On the eve of the Chengdu RV International Exhibition held in October 2017, the country received 22 incoming RVs from German and Swiss. These German and Swiss travelers toured from Manzhouli to China's western frontiers and then to Southeast Asia and Australia. 21RV hopes for more RVers from the United States to make the trip for a unique RVing adventure in places like Shanghai or Suzhou. A third of the campgrounds are situated along the eastern side of China, and in the west around 22%, Based on information gathered from Export.Gov on China's Automotive Industry. Popular regions for RV travel include Nanjing, Hangzhou & Wannan (Southern Anhui) in eastern China; plus Xi'an, Chengdu, Tibet, Qinghai, Xinjiang in the west; and Hainan in southern China.
The topic of driving consumer interest and traffic within the industry undoubtedly came up. How does someone become an avid traveler or camper without first knowing what it can offer? Established in 2002, 21RV was the first Chinese comprehensive platform established to promote RV and camping culture through integrated business formats. Therefore, as leaders in the business, they are tasked with excelling at branding and positioning themselves at the forefront of what people think when they hear outdoor travel and caravanning. They delved into several aspects of marketing strategies to get their message across, such as up-to-date media coverage (21RV Network), tradeshow and exhibition coverage (Beijing International RV and Camping Exhibition and China International RV & Camping Rally), store operations (RV & Outdoor Camping Market - the RV World), RV rental and travel (Europe • US • Australia • Canada • Taiwan RV travel), and campsite construction consulting (Beijing RV Camping Park). Each promotes the development of China's RV-camping industry. These Five Divisions have created a closed-loop ecological chain of both RV & camping and enable them to stay at the top. In addition, 21RV owns China's largest and most active RV community - "RV Family", which currently has 100,000 registered members.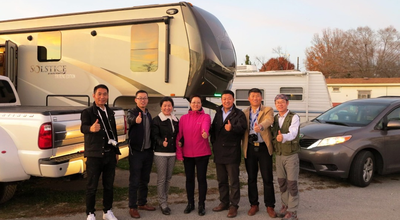 Navigating your RV excursion once landed in China
China's drivers use GPS mainly to drive around the world, in uncharted territory. "If it's your first time traveling in China, it is highly recommended to make early preparations through the help of a China Travel Service agency," advised Judy. China has over 500 RV campsites with working reception capacity. According to the "2016 China Campground Industry Report", there are total of 489 campgrounds under construction. For example, Qinhuangdao's Biluota Marine Camp Park, Weifang's Bailanghe camp in Shandong, Yanguan Grassland camping site in Zhejiang, the Three Gorges International RV camping in Yichang are a few ideal campsite to visit. In particular, the Three Gorges scenic area – one of top ten attractions in China and a world renowned – boasts exquisite scenery and cultural landscapes to explore, such as the Yangtze River.
If renting an RV, you will see that China has many RV clubs which operate as RV rental businesses. They are scattered around major cities in China. Take your pick. Before you get behind the wheel, know there's a whole new set of regulations to unravel. Foreigners driving in China need to do a license conversion, converting from a foreign driver's license to a Chinese one. Judy kindly explained the first steps to getting on the road as a foreigner in China. To do so, first of all, you need to find a qualified translation company that is recognized by vehicle administration authorities. The translation piece needs to be affixed with the official seal of the translation company. Then you go to the Exit-Entry Reception Hall of the local Municipal Public Security Bureau and present your original passport, the translation piece and a copy of the business license of the translation company, in order to be able to print your entry and exit records. Then, you go to the Vehicle Administration or a local hospital above the county level to take a physical examination. Finally, you bring your passport (original and photocopy), driver's license (original and photocopy, as well as the translation), exit and entry records, and the physical examination results, to the local Vehicle Administration Hall. After the information you provided is approved, you pay the registration fee (RMB50 Yuan) which is about $8, for a simple driving knowledge test. Different country, different rules. Don't assume they would know your driving record. After passing the examination, you can print your Chinese driver's license C1. With the license C1, you can drive a motorhome in China! Make sure to note that it cannot be more than 6 meters in length.
Not enough time or patience to get yourself in a driver's seat? There are campgrounds, such as Chongqing Kelede, that will be perfect for you then. You can travel there by other means of transportation and have the feeling of staying in your own RV with the rentals they have on site. On June 3, 2017, dozens of RVs gathered in Chongqing Yufengshan Passenger Car Camping Ground to celebrate "RV Camping Day" in China. As one of the six sub-camps for the China RV Caravan Day, the theme of "Happy Car Camping at Chongqing" is to make families enjoy outdoor camping and educate them on current camping activities so that parents and their children may be even closer to nature. Chongqing's Car Rental RV campsite was the earliest to build a campground in the forest, therefore, the unique natural conditions and the pristine ecological environment usher in a large number of tourists every day that choose to camp, experience RV culture, wooden cabins and other outdoor life.
Due to a larger demand for RVs and a shift in consumers' travel preferences, tourism experts in China anticipate a surge of RV-related businesses in the coming years. There were about 69,432 registered RVs in China by 2017. There are currently around 160 RV manufacturers in China, of which around 90 are active. It is predicted that the campground industry will reach hundreds of billions RMB (Chinese currency) market by 2020, which will also stimulate the RV industry and campground development. 21RV hopes to be at the helm of this powerful tourism shift, helping adventurers and active tourists get the most out of experiencing an unprecedented ancient culture. However, the RV industry faces issues such as lack of standards and regulations, as well as the luxury car consumption tax challenge. China Customs does not have an HS code for RVs, so RVs are treated as automobiles upon import. This means imported RVs have to pay the same high tariffs and duties as imported cars. As with most political obstacles, these will have to be overcome in time to make it easier to for people to explore. 21RV is working to make the idea of staying at a campground in China ideal for anybody interested in doing so.